Promoting the production of innovative content in the Arab world
CFI launched "MediaLab" in 2018 thanks to an exceptional grant awarded by the French Ministry of Europe and Foreign Affairs, as part of the French-speaking and multilingualism plan. The projects attached to the MediaLab label promote the development of innovative content in the Arab world, in particular on francophone issues.
Democratic governance Digital Environment Gender equality Social cohesion The French-speaking world Young people
MediaLab Innovation
MediaLab Innovation supports five innovative editorial projects in French for media outlets in Algeria, Lebanon, Morocco and Tunisia. An opening seminar was held in February 2019 in Beirut bringing together journalists from these media outlets, selected following a call for applications, during which four issues were discussed: the digital audience; establishing a relationship of trust with your audience; new editorial formats; and innovative and alternative funding. During the event, a support programme specific to each media outlet was also drawn up.
MediaLab Campus
Launched in April 2019, MediaLab Campus promotes human exchanges between schools of journalism in the Arab world and France, and even Europe. Over the course of the year, six partnership projects between schools of journalism in Europe and around the Mediterranean were selected. As part of this, the École Supérieure de Journalisme de Lille (Lille School of Journalism, ESJ) organised a training course for trainers, held in the autumn, for four teachers and two journalists from the University of Mosul (Iraq). Furthermore, 15 internship grants were awarded to students at schools of journalism looking to undertake an internship in a foreign media outlet over the summer of 2019. Interns in the Arab world were hosted in French editorial offices, at France 24 in particular, while French interns undertook their internships at media outlets in the Arab world, such as L'Orient-Le Jour.
MediaLab Environment
The MediaLab Environment project helps to increase knowledge and understanding of environmental challenges by providing a better grasp of high quality information about these subjects. It was launched in October 2019 at a conference held at the Arab World Institute entitled "Ecological initiatives in the Arab world". This conference brought together around 30 professionals from media outlets in Morocco, Algeria, Tunisia, Egypt, Jordan and Lebanon to share experiences regarding the ecological problems afflicting their countries, the environmental action taken by civil society and its outcomes.
MediaLab Investigation
Launched in September 2019 during the "Global Investigative Journalism" conference (for which the round table discussions were translated into French for the first time) organised by the GIJN (Global Investigative Journalism Network) in Hamburg, Germany, MediaLab Investigation supports investigative journalists specialising in the fields of health, helping them to produce quality investigative journalism on this subject. In November 2019, following a call for applications, eight investigations were selected. The journalists chosen came from Tunisia, Iraq, Morocco, Algeria, Egypt and Palestine.
MediaLab falls within the scope of the "International Strategy for the French Language and Multilingualism", launched by the President of the French Republic in 2018, which aims specifically to "strengthen Francophone media" and "promote the model of free and independent information". The aim of this initiative is to stimulate new journalistic content in French‑speaking African countries, in French specifically, but not exclusively; it is a question of promoting multilingualism by supporting the development of innovative editorial projects.
Interviews as part of the MediaLab Innovation project
---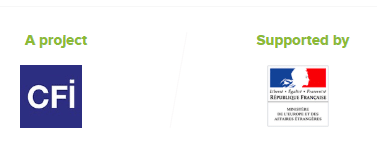 More projects carried out in 2019